Doors Open Days is Scotland's largest free festival that celebrates heritage and the built environment. This annual event gives local residents and visitors of all ages the opportunity to visit historic, civic and interesting places that are not usually open or accessible to the public; all for free!
Doors Open Days takes place throughout Scotland in September and is co-ordinated nationally by The Scottish Civic Trust as part of European Heritage Days and alongside Scottish Archaeology Month. For full details of this exciting nationwide festival, and to access the online programme, visit the dedicated Doors Open Days website.
"Unlock Scotland – it's free and open to all!"
In Perth and Kinross, Doors Open Days is co-ordinated by Perth and Kinross Heritage Trust and funded by The Gannochy Trust. The Trust has been organising the festival in Perth and Kinross since 1996 and we estimate that our programmes have allowed over 90,000 people the opportunity to visit historic and civic gems across the region. The festival wouldn't be possible without the enthusiastic and dedicated support of thousands of building owners, custodians, volunteers and staff who contribute their time and energy to opening venues to the public each year.
2023
Doors Open Days will be coming to Perth and Kinross on the weekend of 16th-17th September. Make sure to save the dates so you can spend the weekend exploring this year's theme, 'Living Heritage'. We will be opening venues across the region, so rest assured you will be spoiled for choice! All venues will be marked with accessibility information.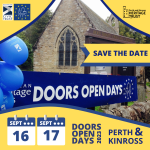 What is 'Living Heritage'?
The 2023 theme is set by European Heritage Days. Living Heritage, sometimes referred to by heritage professionals as 'intangible cultural heritage', is found in the values, beliefs, events, and ways of living we inherit from past generations. We use these things to understand the present and make choices for the future. Living Heritage is something which is passed down from generation to generation, and constantly reshaped by communities and groups in response to their environment. The theme will explore the practices, places and objects that are shared as part of our cultural heritage today. Shared heritage, and the way in which it is shared, provides a sense of identity and continuity, promoting respect for cultural diversity and creativity.